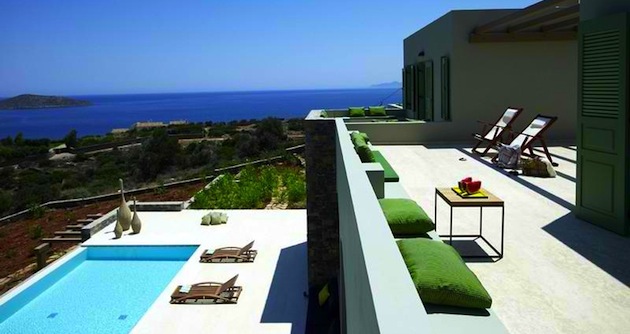 Online searches of properties in Greece have increased from all countries, except Germany (-5%)
Athens, July 9 2015 – Whilst the spotlight of politics and the world economy is fully focused on Greece, the Greek real estate market is also in agitation: awaiting future developments, not only for Greece but also for the whole European Union, interest in the case of Greece real estate has grown enormously.
From the day following the proclamation of the Greek referendum, property searches by Greek users have decreased by an average of 38%. At the same time, however, property searches coming from abroad increased by an average of 60%. Even 3-4 days following the proclamation of the referendum, property websites' traffic from abroad increased by 130%, to settle back down to an average growth of 50% that remained constant in the following days.
The calculations are coming from Spitogatos.gr (http://www.spitogatos.gr), the leading property website in Greece with over 600,000 property listings from 2,000 agencies, and 2 million visits in June 2015. The analysis was carried out using data from all real estate sites of the Spitogatos Group which are translated into six languages (including Spitogatos.gr, Tospitimou.gr, Spiti24.gr and Homegreekhome.com). The research has been able to demonstrate how the latest developments in Greece have impacted the interest of citizens from around the world for Greek houses.
"The increase in searches – explains Dimitris Melachroinos, CEO of Spitogatos.gr – is strongly linked to the media exposure of Greece, occupying the front page of every newspaper in the world, the hype related to the ongoing negotiations and the decline in the real estate demand and prices over the last few years (prices have decreased by an average of 50% and annual property sales transactions by over 90% in the last 8 years). More and more international users seem to share the idea that now is the right time to look for a property in Greece. "
Not all nations have shown, however, the same interest in Greek real estate, which is experiencing a signicant crisis, after reaching peak levels shortly after the 2004 Olympics, and has seen a significant fall in prices and number of property transactions. Nations historically linked to Greece are those that tend to search more aggressively for housing opportunities in the area: the largest increase is in searches from Russia (+ 244% of searches for Greek properties, compared to the period prior to the announcement of the referendum), then Italy (+ 194%), France (+ 156%) and Turkey (+ 105%). Then, the largest increases in searches for the equivalent period are coming from countries that have many Greek immigrants / expats, such as the United States (+ 114%), Australia (+ 105%) and Canada (+ 96%). It also noted that there is a relatively smaller increase of property searches from the United Kingdom (+36%) and even a small decline from searches coming from Germany (-5%).
«Clearly, to ensure that this interest is translated into actual transactions – continues Melachroinos – the economic and political situation has to settle, so that potential buyers have a clear picture. The real estate industry does not work with impsulsive purchases; regulation and socio-political environment is crucial, so we have to wait for the development of events."
Below is a diagram summarising the changes in traffic at the Group's websites (reference period: July 2-8 vs. June 11-17 2015)